Whether it's a Paris city-break you're booked for or just some can't wait Paris reading you're after, you'll find the best books, literary sights, events and courses here, plus a free sample from city-lit Paris, featuring over sixty writers on Paris. Bon voyage!
** The best books on Paris - check out The Guardian and Oxygen Books' ten best books on Paris ...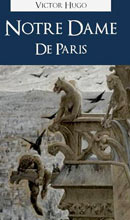 As a visitor it's almost impossible not to see the splendid Notre-Dame Cathedral through the eyes of Victor Hugo and his creation Quasimodo.

"When, after groping your way lengthily up the gloomy spiral staircase, which rises vertically up through the thick wall of the bell towers, you abruptly emerged at last on to one of the two lofty platforms, flooded with air and daylight, a beautiful panorama unfolded itself …" 
• Ile de la Cité, 4th arrondissement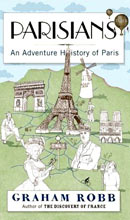 From 1750 to the new millennium, Graham Robb's Parisians introduces us to the people and places of Paris. Here, he recounts an atmospheric cycle journey beside the canals of north-eastern Paris.
"With its jostling crowds and tatty shops, (La Chapelle) has more of the big city about it than the delicate stage sets of central Paris. Across the road from the church … there is a view of the Sacré-Coeur on its ant-hill of roofs and chimneys. Far below, trains rattle through the deep cutting towards the Gare du Nord." 
• Impasse de Curé, 18th arrondissement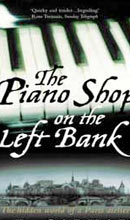 The sights, the smells, the atmosphere of a very special part of the city, evoked by T E Carhart, an American living in Paris, who discovers a piano repair shop on the Left Bank.
"Summer set in early and the sidewalks in the quartier came alive after hours. In a city where few apartments are air-conditioned, the terraces of cafés become the common refuge from a withering heat in the evening." 
• rue St Jacques, 5th arrondissement, Latin Quarter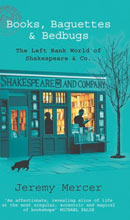 The world around the Left Bank's famous bookshop Shakespeare and Company - haunt of literary giants from Hemingway and Joyce to Ginsberg and Burroughs and still going strong.
"Shakespeare and Company sits on the very left edge of the Left Bank. The store is close enough to the Seine that when one is standing in the front doorway, a well-thrown apple core will easily reach river water." 
• 37 rue Bûcherie, 5th arrondissement, opposite Notre-Dame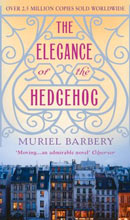 Life behind the façades of a grand Parisian apartment building in the very respectable 7th arrondissement, an insight into the secrets of the building's concierge and its residents.
"My name is Renée. I am fifty-four years old. For twenty-seven years I have been the concierge at number 7, rue de Grenelle, a fine hôtel particulier with a courtyard and private gardens, divided into eight luxury apartments …" 
• rue de Grenelle, 7th arrondissement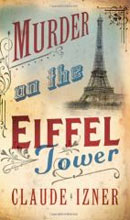 The brand-new Eiffel Tower – the glory of the 1889 Universal Exhibition – is at the centre of this dazzling murder mystery set in late 19th-century Paris.
"Pointing straight up into the sky on the other side of the Seine, Gustav Eiffel's bronze-coloured tower was reminiscent of a giant streetlamp topped with gold. Panic-stricken, Eugénie searched for a pretext to get out of climbing it." 
• 7th arrondissement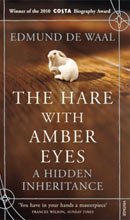 The plush rue de Monceau is at the heart of de Waal's tour de force: once the home of his great grandfather Charles Ephrussi on whom Proust based his own Charles Swann.
"Rue de Monceau is a long Parisian street bisected by the grand boulevard Malesherbes that charges off towards the boulevard Pereire. It is a hill of golden-stone houses … Number 81 rue de Monceau, the Hôtel Ephrussi, where my netsuke start their journey, is near the top of the hill." 
• 81 rue de Monceau near parc Monceau, 8th arrondissement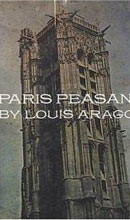 Paris Peasant is a surrealist masterpiece that uses every resource of language to evoke Paris and the extraordinary Buttes-Chaumont park in what was the working class east of the city.
"This great oasis in a popular district, a shady zone where the prevailing atmosphere is distinctly murderous, this crazy area born in the head of an architect from the conflict between Jean-Jacques Rousseau and the economic conditions of existence in Paris." 
• Buttes-Chaumont, 19th arrondissemen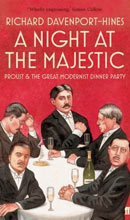 All the luxury and glamour of Rive Droite Paris, just off the Champs Elysées, as Picasso, Stravinsky, Diaghilev, Joyce and Proust meet at the Majestic Hotel for the artistic dinner of the century. The hotel is now re-named the Raphael.
"It is a May evening in Paris in 1922 … A supper party is being held in a private dining room at the Majestic, an hôtel de luxe in avenue Kléber, one of the twelve avenues named after Napoleon's generals which radiate out from the Arc de Triomphe." 
• 17 avenue Kléber, near Arc de Triomphe, 16th arrondissement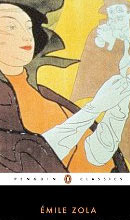 Emile Zola brings to pulsating life the glittering and chic department store based on Le Bon Marché. Designed by Eiffel, it is still thriving today.
"It was like the concourse of a railway station, surrounded by the balustrades of the two upper storeys, cut by suspended stairways and crisscrossed with bridges. And all this cast iron beneath the white light of the glass roof composed an airy architecture of complicated lacework." 
• 24 rue de Sèvres, 7th arrondissement
*** The best literary sights, cafes, walks, events and courses in Paris ...
Favourite literary landmarks:
Les Deux Magots and Café de Flore, Boulevard St Germain (where tout literary Paris from Hemingway to Sartre has drunk its café noir)
 Shakespeare and Company Bookshop (where the Lost Generation found itself although moved to current location in 1951)
Maison Victor Hugo, 6 Place des Vosges
Maison de Balzac, 47 Rue Raynouard 
Theatre de la Huchette, rue de la Huchette (Ionesco's The Bald Prima Donna non-stop since 1957)
Père Lachaise Cemetery (where Oscar Wilde, Colette, Marcel Proust and Jim Morrison are buried)
Montparnasse Cemetery (where you'll find Samuel Becket, Jean-Paul Sartre, Simone de Beauvoir and Serge Gainsbourg)

Best English language bookshops:
The Red Wheelbarrow, 22 rue St Paul www.theredwheelbarrow.com  
Shakespeare & Co, 37 rue Boucherie www.shakespeareandcompany.com 
W H Smith, 248 rue de Rivoli www.whsmith.fr
Check these out for regular readings too.
Nicest literary cafes:
Tea and Tattered Pages, 24 rue Mayet www.teaandtatteredpages.com
 Manga Café, 11 rue des Carmes www.mangacafe.fr
L'Autre Café, 62 rue Jean Pierre Thimbaud www.lautrecafe.com
Les Deux Magots, Place St-Germain-dès-Pres www.lesdeuxmagots.fr
Café de Flore, Boulevard St Germain www.cafedeflore.fr
 Inspiring literary walks: www.paris-walks.com Hemingway's Paris and St-Germain-dès-Pres
 Useful apps: Literary Paris www.gpsmycity.com
Most interesting blogs: http://www.maitresse.typepad.com Essays and observations on books, culture and life in the city
www.laurelzuckerman.com Paris writing news
 Live events and festivals:
For the latest information  http://parisreadingsmonthlylisting.blogspot.com
 Writing courses and workshops:
** The best essays on Paris ...
Shakespeare and Company Bookshop, Paris
What is it that writers bring to places where they've lived and travelled? Imagination and insight spring to mind. A feel for things that skewers an experience while the rest of us flay around. An ability to get to a place's heart and soul.
It's why so many of us like to read books about a location before we visit it or are simply curious as armchair travellers.
These are certainly qualities of the well-known writers on Paris celebrated in some wonderfully insightful and informative short essays on the excellent US Literary Traveler site.
Open the front door of Paris bookshop Shakespeare and Company with Jack Callaghan and discover what makes this both a legendary and a working bookshop.
Venture out into Belleville and join Kevin E G Perry as we discover the graves and the wild stories of Oscar Wilde and Jim Morrison in Pere Lachaise cemetery.
Walk the Paris mean streets of Henry Miller again as recounted by William Caverlee.
Stroll, flaneur-like, through elegant Passy with P B Lecron and find out more about Honore de Balzac,
Sit, a little nervously, at one of Gertrude Stein's famous Paris salons as told by Lauren Owen.
Find yourself nostalgically being eight again in Jennifer Ciotta's story of Madeline and her creator.
Immerse yourself in Hemingway's love song to Paris, A Moveable Feast, through the eyes of Ali Pinero.
Be a cool dude in beat Paris as Matthew Nilsson recalls the American Beat hotels
Francis McGovern, co-founder of Literary Traveler, reminds us that 'when people read a book and then learn more about the author, and the places they lived and travelled - they become inspired to read and travel more, and maybe they even start writing themselves.'
From Balzac and Oscar Wilde to Hemingway and Alan Ginsberg, there's no shortage of Paris inspiration in the essays above.
And, after this, if your next click isn't on the Eurostar site we'll be very surprised.
*** Free sample Paris read from city-lit Paris with Stephen Clarke, Gertrude Stein, Edmund White, Adam Gopnik, Colette Rossant and many others Download City-lit Paris 40pp